3. addiVent Giveaway – closed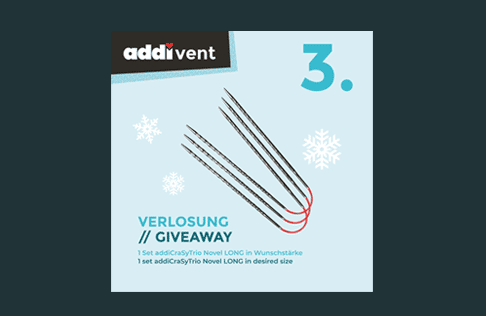 addiVent, addiVent, the third candle is burning.
In the third week of Advent, we are giving away 1 addiCraSyTrio NOVEL LONG in the size of your choice.
This set of 3 bendable sock needles is perfect for circular knitting projects such as socks
, sleeves, turtlenecks or hats.
The angular, rounded needle tips with the special feel and surface structure ensure relaxed knitting hours with the result of a wonderfully even stitch pattern.
adddiCraSyTrio NOVEL are vailable in sizes 2.0 to 8.0 mm, in 30 cm length.


To participate, please fill out the form below. Tell us your favourite sock knitting needles.
Duration of the raffle: 12.Dec 2021 00.01 a.m. until 17. Dec. 2021 10.00 a.m. German time. The addi team wishes you good luck and a happy third Advent.
Congratulations to our winner Marion D.