Anniversary Thomas Selter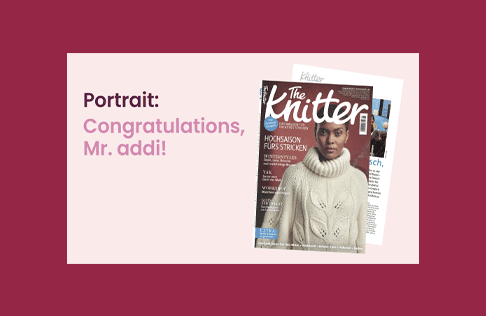 Where has the time gone? – That's what Mr. addi, Thomas Selter, thinks too. Because he celebrated his 50th working anniversary at addi on 01.12.2021. He looks back on a long career of success, which he celebrated well-deservedly in a small circle with his employees!
However, this does not mean that he will now say goodbye to the company… besides his new job in his own garden, he can still be found in the company every day and who knows, maybe you will read about a 60th anniversary in the newsletter "addiGeflüster" in 2031.
For this great occasion, the German magazin "The Knitter" has created a great portrait in issue 55/2021, which we are allowed to publish
Read the whole German article here.

Our translation:
Congratulations, Mr. addi!
50 years on the job, half a century in the needlework industry, through crises and boom times – Thomas Selter is celebrating a round service anniversary at the helm of addi, the brand for knitting, crochet needles and needlework accessories made in Germany. An insider gave us insight into his life and work: We spoke with co-managing director and wife Claudia Malcus.
addi is the brand of Gustav Selter GmbH. How did your husband Thomas Selter's entry into the family business go?
On December 1, 1971, at the age of 23, he took over the management of the sixth generation from his father. Before that, he had studied business administration in Münster and gained six months' work experience in a tax firm. That was a leap into the deep end, as his father withdrew completely after just nine months. Suddenly he was all alone at the helm of a company with about 50 employees, which at that time manufactured jacket knitting needles, crochet hooks and needle games as its main product.
The knitting boom of the 1970s brought him solid sales growth, but he also used the time for product innovations. The company's second mainstay was the production of tools. However, the triumphant advance of DIY stores displaced the hardware trade, through which sales had been made. My husband shifted to promotional items, which companies ordered from him as giveaways for their customers. That saved the company's existence in the mid-1990s, when the handmade goods industry was going through a deep valley worldwide. We did not completely discontinue promotional items until 2018, having previously switched to imports in response to demand.
In 1986, there were 14 manufacturers of knitting and crochet needles in the FRG; as a full-range supplier, the addi brand is the only one still producing in Germany today. In 1986, Gustav Selter GmbH had 64 employees, in the mid-90s the workforce still comprised 27 people, today we employ about 130 people. Our company headquarters in Altena is considered the center of the German wire industry. It was here that Peter Heinrich Selter founded the production of crochet hooks in 1829 and by 1860 had more than 200 different gauges and handles in its range.
The market leader at that time was the company IMRA, Johann Moritz Rump Altena, with the brand INOX and location in the same small town. Both developed completely independently of each other, but with the same products and therefore in constant competition. Gustav Selter GmbH survived the deep crisis in the industry in the mid-1980s. At that time, the product range was relatively constant. But the circular knitting needle became increasingly popular from the 1970s onwards, as it made knitting easier, faster and more comfortable. From a by-product it developed into a bestseller, the cases were added, addiClick, the interchangeable needle tips, accessories – today we carry 1300 catalog items.
How did your husband get the nickname Mr. addi?
He brought it with him from America! The recovery of the needlework industry began at the end of the 1990s in the USA, via the social track: with the slogan "Warming up America!" knitting was done for the homeless, which brought needlework back into the public consciousness.
We had already had our foot in the American market since 1987/88 – through the Skacel company, which still carries our needles there exclusively. At that time, the Skacel couple entered the industry by importing hand-knitting yarns. During a visit to Germany, Mrs. Skacel got to know our needles in a specialty store, but didn't take any with her. Then she dreamed of addi needles! She interpreted this as a sign and ordered sample needles directly from us. This landed her in our customer file, and at Christmas time we sent her our chocolate advent calendar, as we do to all our partners. She was delighted and contacted us – the beginning of a special friendship and partnership.
Our circular knitting needles caused an absolute run in the USA, and that had to do with their quality. A few years earlier, my husband had a conversation with a knitter who told him that for one sweater, over 50,000 stitches glided over her needles. That's when a light dawned on him: Someone who knits knows every square millimeter of their tool. So when knitting needles function optimally, it increases the fun. As a result, we worked intensively on optimizing the needles, and it paid off: In the USA, "addi-turbo-needles" became a terrific success, exports developed rapidly, and company boss Thomas Selter became Mr. addi, who was often asked for an autograph on trips to the USA, China, Russia or Australia.
What technical innovations has he introduced in production?
Thomas Selter has always been committed to innovation and his technical understanding has earned the respect of employees and suppliers. At his instigation, we now work with state-of-the-art lean lifts in high storage, have an ultra-modern white bronze plant and a waste water processing system that produces drinking water quality. addi is ecoprofit-certified and is also moving straight into the future digitally. It's not just in production and sales that we're digitizing; the digital world is also important in marketing, and we work closely with influencers, for example. However, my husband says that our Research & Development department is still our customers. We listen very carefully to what they want – most product developments are based on their suggestions.
What's next for addi?
A duo has taken over the management: Carolin Deutschmann is in charge of production and I, as Mr. addi's 19-year-younger wife, am responsible for purchasing, marketing and personnel. My husband is a valued advisor in all areas and still comes to the company every day. His four daughters from his first marriage have changed their professional and spatial orientation. He already has four grandchildren, and his stepdaughter, whom I brought into the marriage with me, is currently studying Business & Management. She will join us after her bachelor's degree as a working student in the master's program, so the next generation is already in the starting blocks.
***
The interview was conducted by Janne Graf for a portrait in "The Knitter", edition 55/2021.
Photos: addi