Knitting love: This connection makes it (addi)Click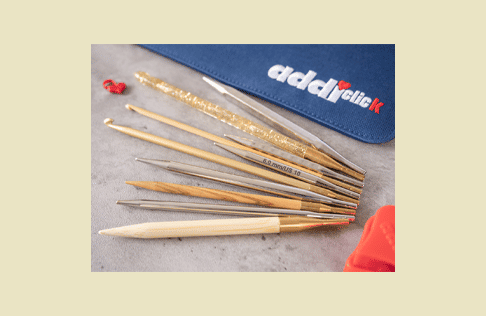 Interchangeable circular knitting needles are totally practical. Being able to combine ropes and needle tips individually for each project brings many new knitting and crochet possibilities and also saves space
: instead of countless fixed circular knitting needles, one set of needle tips with matching ropes is enough. Our all-rounder solution is called: addiClick!
[metaslider id="11916″]
Content:
[toc]
The addiClick system
The addiClick system features interchangeable ropes and needle tips for Tunisian crochet, knooking and knitting. Without additional tools, the tips and ropes can be connected to each other simply by turning and clicking. The connection holds securely once it has clicked into place – the typical "click" – and loosening during knitting is prevented.
[metaslider id="11918″]
Ropes and needle tips are perfectly matched: The plug-in connection creates an even transition between needle and rope for even knitting, crocheting and knooking fun. Since all needles in the addiClick family are equipped with the same connection, they can be cheerfully combined, interchanged and even changed quickly and easily in the middle of a project. Tunisian crochet and knitted rows within the same project, a smaller needle size for the otherwise too loose left back rows, stitches on a rope set-aside and using the same needle tips for the next pieces – all this and much more is possible with addiClick.
The variations and sets
[metaslider id="11923″]
In order to meet all demands and provide the best knitting and crocheting fun, we now produce the addiClick needles and sets in many variations: Basic, Lace Short, Lace Long, Mix, Novel Short, Novel Long, Bamboo, Olive Wood, Hook, Hook Bamboo and Knooking can be found in the assortment and can be wildly combined without tools.
With their new modern textile structure, the cases for the individual addiClick sets already show from the outside what is inside: Olive green, for example, stands for the olive wood needles, blue hides the Novel sets and the light green cases protect bamboo needle tips for knitting or crocheting. Packaged in such a high-quality way, the cases are particularly suitable as a gift for needlework fans or for yourself and are a safe place for your favourite needlework tools not only when you are on the move, but also at home.
[metaslider id="11922″]
The complete package: tips, ropes, connectors and other accessories
All addiClick sets contain a wide range of needle sizes from 3.5mm. The knitting cases also contain three to five ropes each via a zipped pocket and a connector that can be used to couple several ropes and to stop knitting. If a knitted piece becomes wider or larger than expected, an additional rope can simply be clicked in between instead of having to switch to another needle.
The ropes are available in gold, red and as an addiSOS version, which makes it possible to pull in a safety thread for complicated patterns. addiClick accessories
[metaslider id="11921″]
The addiClick by Woolly Hugs set is the most comprehensive of its kind and comes with knitting and crochet needle tips, as well as the addiLove stitch markers, scissors, a needle gauge, an SOS rope, a measuring tape and a darning needle. Also included are addiHeartStoppers. All needle points, ropes and accessories can be purchased individually and extend the sets individually for each knitter – according to their preferences.
addiClick – Individual, premium and "Made in Germany".
All in all, the addiClick family offers a patented plug-in system for great knitting and crocheting fun. Pairs of needles can be combined as desired, enabling new variations for perhaps unexpected applications over and over again in a very sustainable way. And all this in the highest premium quality and "Made in Germany".
The addi team wishes you lots of fun with turning, clicking and needlework with the addiClick needles!
This is how simple the patented addiClick connection works